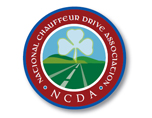 About
Many visitors to Ireland are clients of NCDA members and the Association plays a vital role as ambassadors for the country, portraying the positive side of Ireland, its people and its culture.
The National Chauffeur Drivers Association Limited
The NCDA is a independent, non-profit organisation representing the chauffeur drive industry in Ireland.
It's members operate professional well managed chauffeur drive company's nationwide.
NCDA members supply high quality chauffeur vehicles and have strong links with many groups within the tourism and commercial sector.
The organisation is controlled by an annually elected Executive board and is also represented on the National Taxi,Hackney and Limousine Council.
All members are approved by Tourism Ireland.